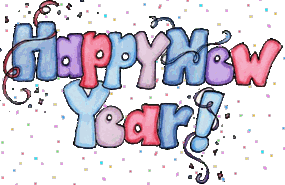 glitter-graphics.com
I can't believe a year has passed already! This time last year I was getting ready for a baby shower in North Carolina and doing quite a good impression of a duck. Waddle to and waddle fro. Some days pregnancy was not comfortable, but I sure enjoyed it. Especially the naps and the having a reason to be slow.
Our New Year's was quiet as plans with Daddy were foiled by broke airplanes and what not. No big deal, I got to snuggle with my little guy and the new year rang itself in without us. It was going to do that whether we were up and together or not.
With a new year upon us we also have Spencer's first birthday coming up. What everyone says is true...it all flies by in a blink of an eye. I remember coming home with him and wondering how it was I had a baby. Then came the sleepless nights and I thought I would never make it. I remember telling myself if we can just get to three months it will get better. And then it was 6 months and then 9 and now here we are at almost 11 months. He is quite the awesome little dude. Everyday he teaches me patience and how not to sweet the small stuff. I am thankful for 2009 being such a lesson in love. It can only get better.
My favorite picture from the holidays:
He is quite photogenic, don't you think?